Previously we have written about different roles of vitamin D, where we especially focused on sunshine vitamin´s optimal level and its maintenance. Is the laboratory lower reference value the optimal level or is it something else – read from HERE.
During the last years vitamin D has probably got more attention than any other vitamin. Internet is full of articles about the importance of vitamin D. According to Estonian pharmacies, vitamin D is sold with record high numbers and sales won´t probably increase significantly. In Estonia, knowledge of the importance of vitamin D is quite high, but there are still people, who do not use vitamin D supplements. Do these people suffer from vitamin D deficiency, how fast does the deficiency develop and are there any differences in their body due to deficiency?
Vitamin D (from food, sunshine and supplements) changes to calcidiol in the liver, which is measured from blood to check the level of vitamin D. The half-life of calcidiol of D3 (we get from supplements and e.g. fish) is 15–30 days. Half-life is the period during which vitamin D stores decrease by half. The half-life of calcidiol of D2 (e.g. from mushrooms) is under 10 days. Calcidiol changes to calcitriol, the active form of vitamin D, in the kidneys. If there is not enough calcidiol, there is also not enough active form of vitamin D [1].
As the "lifetime" of calcidiol is rather short, vitamin D deficiency can develop during a few months time after the end of summer taken into account that a person has spent enough time in the sunshine and vitamin stores are full. In case vitamin stores are not sufficient, deficiency develops faster.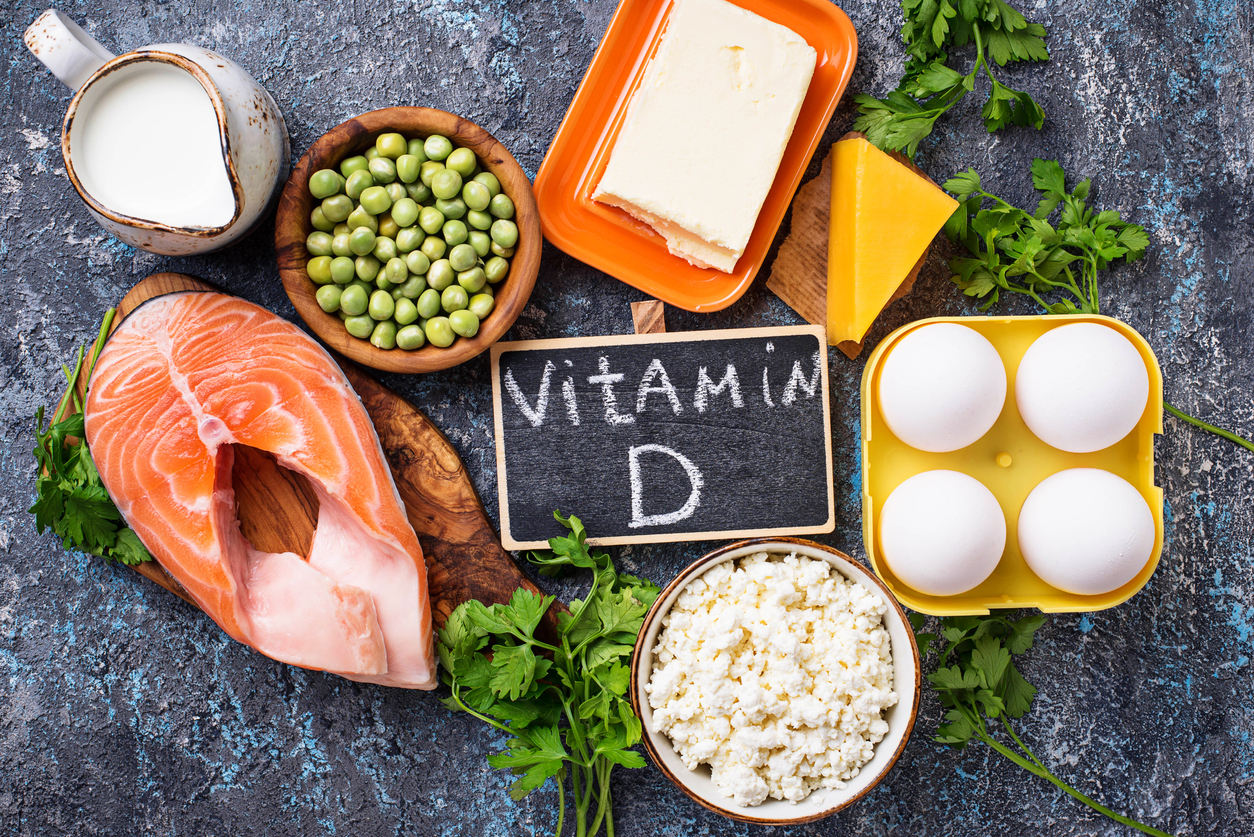 Only approximately 50% of vitamin D is absorbed by the body from food [1]. Vitamin D from food is not enough e.g. in Estonia to maintain a healthy vitamin D level. Vitamin D is absorbed better from food supplements.
What different roles does vitamin D have in our body?
The active form of vitamin D, calcitriol, has many different roles in our bodies. The most common role that is usually mentioned is the absorption of calcium. The basic level of calcium absorption is only 10–15%, but calcitriol increases the calcium absorption up to 30–80%. In addition, calcitriol takes part in the absorption of phosphate [1].
Vitamin D has an important role in bone health. Calcitriol has an important role in bone mineralization and resorption processes. The most common disease linked to bone mineralization is osteoporosis [2]. People suffering from osteoporosis are at high risk of developing bone fractures [1].
Vitamin D receptors have been found from more than 30 cell types, e.g. from lymph nodes, pancreas, skin, brain, stomach and heart [1]. People, who have low vitamin D level, have a weaker immune system and may get sick more easily. Vitamin D decreases the formation of T-cells (lymph system cells that belong to leukocytes) and certain inflammation causing substances. Vitamin D can increase the formation of a certain peptide that promotes intracellular destruction of bacteria [1].
It is also believed that vitamin D has an effect on insulin sensitivity. Insulin is a hormone that is produced by pancreas and it regulates blood´s glucose level. In addition it is believed that vitamin D has an effect on blood pressure, because it decreases the formation of renin (a hormone that is released by the kidneys and increases blood pressure [3]). It is also found that vitamin D regulates the growth and transformation of several cell types, participates in the division of smooth muscle cells and regulation of muscle activity. Vitamin D is researched continuously and new knowledge about its roles will be gathered.
What happens in case of insufficient vitamin D level?
People, who have very low vitamin D level, can suffer from bone and muscle pain. These symptoms are linked to already a severe vitamin D deficiency [1].
Diseases caused by vitamin D deficiency are e.g. rachitis and osteomalacia that are caused mainly by insufficient absorption of calcium and phosphate. Rachitis and osteomalacia can develop also in such cases, where in addition to insufficient vitamin D intake, a person suffers from certain diseases that decrease the absorption and metabolism of vitamin D [1].
Vitamin D deficiency and a higher cancer risk has been studied a lot. The results differ among different scientific research, but it has been found that there are more cases of cancer diseases in case of vitamin D deficiency [5].
For instance, it has been found that people suffering from melanoma suffer also from vitamin D deficiency. Women suffering from breast cancer have had larger tumours and more severe form of the disease in case of vitamin D deficiency. It has also been found that men suffering from prostate cancel, whose vitamin D calcidiol level has been lower compared to control group, had higher indicators of inflammation. Low level of vitamin D is linked to a higher risk of suffering from lung and pancreas cancer. Here are just some examples of the results that have been found.
Vitamin D can indirectly prevent cancer. E.g. in case of unsuccessful treatment for Helicobakter pylori (which is quite common in Estonia), such people had lower vitamin D levels compared to people, who were treated successfully. Helicobakter pylori has been linked to gastric cancer [5].
Why vitamin D deficiency develops?
Vitamin D is an oil-soluble vitamin. All oil-soluble vitamins have supplies in our bodies. Vitamin D supplies can be found from blood plasma, fat and muscle tissue [1]. Supplies are enough only for a certain time period and sooner or later, in case of insufficient vitamin D intake, deficiency will develop.
By the time a person gets 70, vitamin D synthesis is decreased to only 25%, i.e. older people may not get sufficient amount of vitamin D even in the sunshine. Clothes and dark skin also decrease the synthesis of vitamin D [1].
Did you know that…
already SPF 8 sunscreen blocks the formation of vitamin D? Remember to spend time in the sunshine also without using a sunscreen. Vitamin D can be formed up to 250 micrograms during about twenty minutes time in the sun. The best time for vitamin D synthesis is during summer from 10–14 [1].
Vitamin D accumulates to fat drops of different tissues. Overweight people have more fat tissue and thus, the use of vitamin D by the body may decrease up to 50% [1].
Vitamin D deficiency can develop due to different reasons. In Estonia, it is usually due to lack of sunshine, therefore, vitamin D supplementation is strongly advised at least from September to May. Vitamin D deficiency can also develop due to malnutrition and metabolic disorders.
In case you work in the office and don´t spend a lot of time in the sun in the summer, it is advised to supplement with vitamin D also during summer months.
In Finland, it is recommended to give 10 micrograms of vitamin D for babies starting from 2-weeks-old. Breast milk contains both, vitamin D2 and D3, but in very limited amounts. Colostrum contains less vitamin D than late-lactation milk. It has been found that women, who use vitamin D supplements, have higher concentrations of vitamin D in their breast milk compared to women, who do not supplement with vitamin D. The amount of vitamin D in breast milk is not sufficient to cover the vitamin need for infants [4].
There are three different vitamin D supplements in Nôgel´s selection: 440 IU for babies and toddlers, 1200 IU and 4000 IU for adults and children. All supplements can soon be found from our webstore, pharmacies in Finland and other trustworthy distributors in Finland. Which vitamin D supplement should you use – this depends on your vitamin D level that you can check by visiting your physician. Read more about the optimal level of vitamin D from HERE.
---
Sources:
[1] A.Aro, M.Mutanen, M.Uusitupa. Ravitsemustiede, 4.-7.köide, 2017.
[2] K.Maasalu. Luu struktuuri ja mineraliseerumist mõjutavate ravimite kasutamine Eestis. Ravimiamet. Eesti ravimistatistika 2006-2010, lk 56-61.
[3] M.Grünthal-Drell. Insult, infarkt ja hüpertoonia. Inimeseõpetus/Terviseõpetus/Töötervishoid/Esmaabi. Tallinna Ülikool.
[4] S.Streym et al. Vitamin D Content in Human Breast Milk: A 9-mo Follow-Up Study. American Journal of Clinical Nutrition.103(1),107-14.Jan 2016.
[5] M.Rita et al. Influence of vitamin D on cancer risk and treatment: Why the variability? Trends Cancer Res. 2018; 13: 43–53.